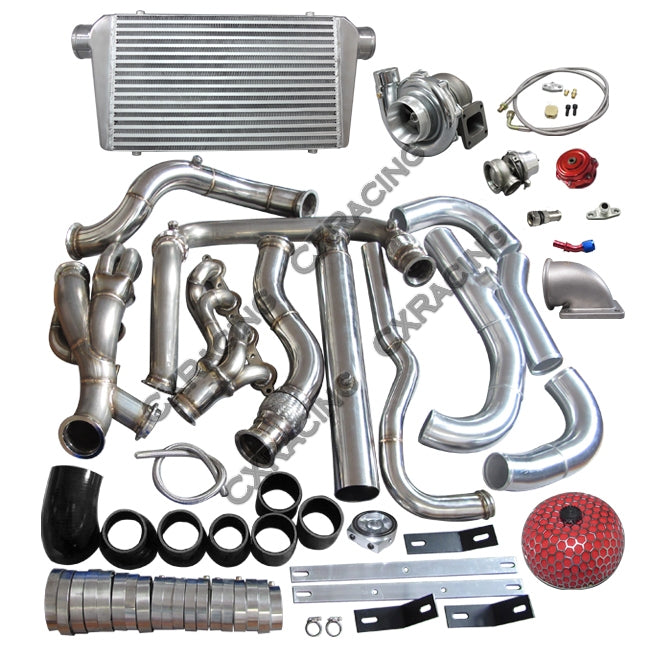 TURBO INTERCOOLER KIT FOR 99-07 CHEVROLET SILVERADO GMT 800 VORTEC V8 4.8 5.3 6.0
CXRACING TURBO KIT + INTERCOOLER KIT FOR 1ST GENERATION 99-07 CHEVROLET SILVERADO (GMT 800 PLATFORM) WITH VORTEC V8 4.8L/5.3L/6.0L


FITS 2WD, DOES NOT FIT AWD (CROSS PIPE HITS DRIVESHAFT)
This Is A Solid Proven Kit, Perfect Fitment. We Developed This Kit From Scratch, Fully Tested, See Installed Pictures On and Outside the Car.
Perfect Fitment. Keeps All Stock Parts and Accessories. No Cut, No Relocation (Except MAF Sensor Wires Need to Be Cut and Extended).
Single Big T4 Turbo Provision, Supports 700-800 WHP.
60mm Vband WG and 50mm BOV Provision.
2.5" Cross Pipe, Excellent Ground Clearance. Above Oil Pan Level.
3" Turbo Downpipe then Enlarged to 3.5" Exhaust Pipe
Much Better Response Compare to Rear Mount Turbo Setup.
We Developed and Tested This Kit Based on a 4.8L Motor with a T76 Turbo, Makes 335 WHP at Low Boost of 12 PSI, with 40lbs Injectors and Pump Gas. Considering the Power Lost from Crank to Wheel, Our Test Setup Makes Around 420-445 HP (vs 270-280 HP Stock Power)
For Larger Vortec V8 (5.3L, 6.0L) with Built Motor and Larger Turbo, This Kit Supports 700-800 WHP.
NOTE:
- Exhaust Pipe Is 3.5 Straight Pipe, It Does NOT Have Flange Welded, You Will Need To Fabricate the Rest of the Exhaust System.
- No Instillation Instruction Is Provided. But We Show Many Installed Pictures, It Is Very Intuitive.

APPLICATION:
- Chassis : 1998-2007 Chevrolet Silverado, GMT 800 Plateform
- Motor : LM, LQ Vortect V8 4.8L/5.3L/6.0L
- Turbo: T76 turbo
Note: This Kit Is Developed Based on A 2002 Silverado, It Should Fit Other GMT800 Platform Vehicles.
PRODUCT BEING SOLD:
Turbo + Intercooler Kit + Turbo Headers + Cross Pipe + Downpipe + WG Dump pipe + Vband Clamps + Oil Line Kit
This is CXRacing's Newest Products for the Application Stated Above. All Parts Are Developed from Ground Up in Our R&D Center in USA, Designed and Built for Improved Performance Gains, with Excellent Fitment and Easy Installation.
PRODUCT INFO AND SPEC:
MANIFOLD:
- CXracing's Proprietary Design, Keeps All Stock Parts and Accessories
- Stainless Steel 1.65" Runner Tube
- Works With CXRacing's T4 Turbo Elbow Adapter. Flexible Fitment For Many Turbos
- 60mm Vband Wastegate Provision
- 2.5" Cross Pipe with Vband Connections
- Comes with 60mm WG Dump Tube
DOWNPIPE:
- 2 pcs 3" Downpipe Connects to Turbo (Fits Turbo with 3" Vband Exhaust Outlet)
- 3.5" Straight Exhaust Pipe
T4 TURBO AND WASTEGATE:
- 4" Air Inlet
- 2.5" Compressed Air Outlet
- Wet Floating Bearings
- Standard T4 Flange
- 76mm Wheel Compressor
- .81 A/R Turbine
- 3" V-band Hot Side
- 60 mm 12Psi V-Band Wastegate
INTERCOOLER KIT:
- Bar & Plate Aluminum Intercooler
- Core Size: 20"x12"x3"
- Overall Size: 27"x12"x3"
- 3" Inlet & Outlet
- 3" Thickness Core
- 3" Pipe Connects to Throttle Body, then Reduce to 2.5" Intercooler Pipes
- Comes with BOV, Silicon Hoses, and T-Bolt Clamps
- Air Filter
NOTES:
- Off Road or Track Use ONLY, NOT for Street Use.
- Due to the Complexity of Converting a Motor from NA to Turbo, Please Make Sure that You Understand the Application Stated Here are the Right Parts for Your Project.
- Parts Being Sold are the Kit Being Advertised ONLY. Other Parts Shown on Pictures are for Demo Only.
Optional Dual Ball Bearing Turbo is Available with $250 Extra, Please Select the Ball Bearing Option When Buying.