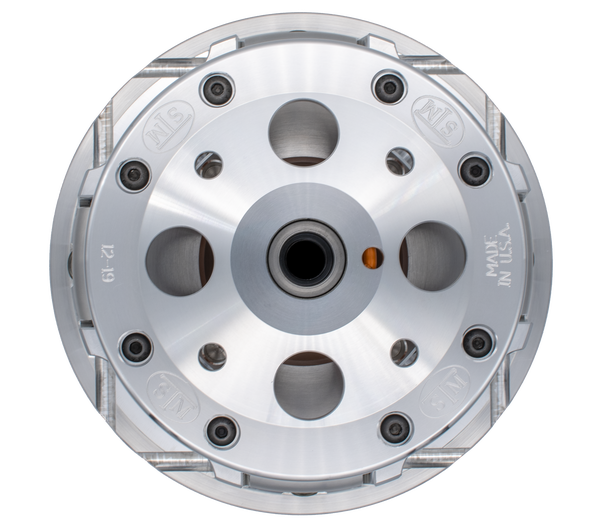 STM RAGE 4WCP Can-Am Defender/X3/Maverick Trail/Maverick Sport 17-23 Primary & STM Secondary 3001122
Rage 4 Wide Captured Pin Primary Clutch 
Completely Redesigned STM Rage 4WCP Primary clutch features a wider, thicker, more durable spider with our new composite spider roller bushings for long life and quiet operation. The new design utilizes a captured pin with set screws for maximum durability and ease of use. Along with the new captured pin design we have all new composite cam arm bushings for long life in harsh environments. We have also added a finned fixed sheave for added air flow and cooler operation.
The Rage 4WCP primary has two different styles of adjustable cam arms available. The AFP series of weights are used for the RS-1 and lower power turbo applications.  The HB series weights feature a "humpback" design and offer good belt grip on the bottom end and awesome mid to top end performance especially on higher HP machines. The Rage 4WCP clutch works well with stock or aftermarket tunes that utilize the stock turbo running pump gas, or race gas tunes and bigger turbo kits. This is the ideal high HP Dune/ Hill shooter clutch.  
Included with the clutch is a weight fastener kit to calibrate the cam arms, and a compression tool to change the weights or spring in the clutch without removing it from the engine.
The Rage 4WCP utilizes the STM PATV or PS style springs available on our website. The clutch will be shipped fully assembled with a BASELINE weight setup installed based on the specs provided by the customer at time of order. It is the customers responsibility to ensure that the clutch is calibrated properly for their machine per the instructions provided. This clutch uses the OEM belt specified for your machine. Aftermarket belts can also be used however most of the time an aftermarket belt will require a slightly different calibration for maximum performance/belt life. This clutch can be used with the the OEM secondary clutch or the STM billet Tuner secondary clutch. 
The stock or STM (1001190) clutch puller will be required to remove the OEM clutch.
This is an all billet construction and capable of using compression springs with different spring rate options available. We have many helix angles see menu for available options. We can also provide custom helix angles if you desire for an additional fee. 
Can be used along with the stock primary or the STM primary. Best results are acquired when running both the STM primary and STM tuner together.
Will NOT work with aftermarket seal savers!
Choose a helix angle - The most popular helix is the 40/50ºP. It is a good all-around helix. We found that is worked the best for the average to aggressive trail rider.
Choose a spring– The most popular spring is the KSS12 Blue. This spring works well for most average to aggressive trail/dune riders. 
KEEP IN MIND WE CAN ONLY GET YOU CLOSE WITH SET UP. Everyone's riding style is different so it's up to the customer to do the fine tuning!
PLEASE CALL BEFORE ORDER (928) 259 7576
SHIP BETWEEN 2-3 DAYS