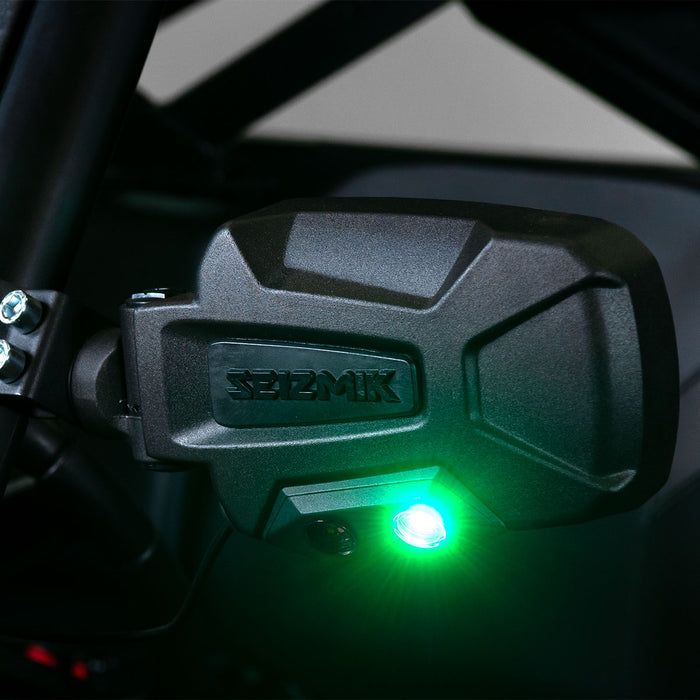 Pursuit Night Vision Series Side View Mirror (Pair – Cast Aluminum) – Polaris Pro-Fit and Can-Am Profiled
Seizmik's Pursuit Night Vision Series Side View Mirrors with Dual Mode LEDs
Seizmik's best selling mirror now comes equipped with white and green Cree LED chips to provide peripheral illumination to the mid-forward and side ground areas around the UTV.
FITMENT INFO
| | | |
| --- | --- | --- |
| Part # | ROPS SIZE/STYLE | VEHICLES INCLUDED |
| 18088 | Polaris Pro-Fit and CAN-AM Profiled ROPS | Polaris Full and Midsize Pro-Fit Ranger; Polaris General; Can-Am Defender |
GREEN LIGHT
Used for preserving night vision and providing more visual acuity and better differentiation between colors at low-light levels.
WHITE LIGHT
Used for lighting up the mid-forward area not covered by headlights or light bars, increasing the peripheral illumination
All Seizmik mirrors come with a 100% Unlimited Lifetime Warranty—regardless of how the mirror was damaged. Every mirror, no matter what—even if your cow eats it or you shoot it (actual customer warranty issues—we can't make this stuff up)!
LED FEATURES
A CAST ALUMINUM HOUSING

 

with IP68 water resistant rating.
DUAL COLOR MODE

 

features Green Night Vision for better visual acuity at low light levels and White for bright illumination when needed.
WHITE LEDs:

Chips: 3x 11.9W Cree® XBD
Lumens: 565LM

GREEN LEDs:

Chips: 3x 6.6W Cree® XBD
Lumens: 266LM
MIRROR FEATURES
CAST ALUMINUM HOUSING —

 

Ultra tough metal housing can withstand the most extreme punishment.
POSITION TENSION ADJUSTMENT BOLTS —

 

Always be able to keep it tight as new.
FULL BREAKAWAY GEOMETRY —

 

Designed to break away during impacts to minimize damage.
PRE-SET POSITION DETENTS —

 

Delrin® Detents allow the mirror to be quickly popped back into place.
ADAPTIVE 360º BRACKET ROTATION —

 

Will accommodate any angle roll cage pillar and provides optimal viewing position, so a user can mount it high or low and adjust to perfect viewing position.
LOW PROFILE MOUNTING BRACKETS —

 

Allow mirrors to work with most any windshield.
ENCLOSED FLOATING MIRROR MOUNT —

 

Mirror glass may be independently adjusted inside housing and is replaceable.
SHATTER-RESISTANT SAFETY GLASS —

 

For maximum safety.
CONVEX MIRROR SURFACE —

 

Provides wide viewing angle and image stability.
WEATHER SEALED CAPS —

 

Removable caps protect hardware from moisture and debris (red, yellow, green, and blue color kits available).
FITMENTS FOR MOST ANY VEHICLE —

 

Round Tube ROPS; Polaris® Pro-Fit ROPS; and CAN-AM® Profiled ROPS.