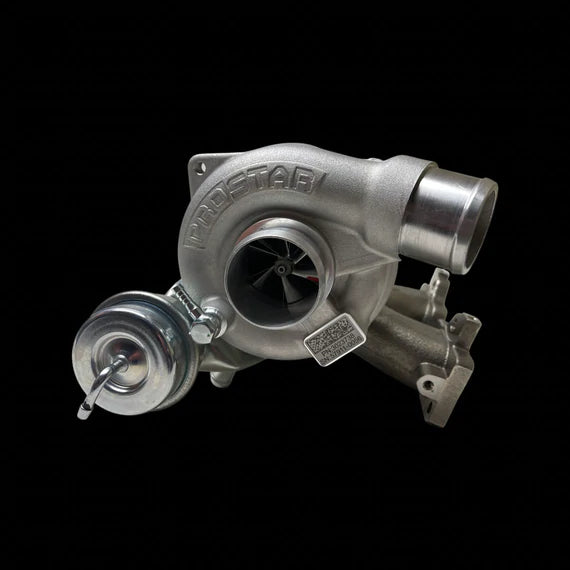 PUR001 - Polaris ProXP Stock Turbo Rebuild - Customer Supplied Core
Customer supplied ProXP turbo core (#1205930)
Working directly with the experts at Pure Turbo, we developed an exclusive Polaris ProXP turbo rebuild that delivers a drop-in 30+whp with a mild tune and 45+whp with a more aggressive tune. Testing on VP x85 but this thing makes serious jam on any fuel. Specs:
• OE ProXP compressor wheel inducer measures 39mm, Pure CNC milled wheel is 46mm with an additional 6 full and 6 splitter blade configuration.
.• OE ProXP turbine wheel exducer is 40mm, Pure wheel is 45mm with blade geometry designed for improved mass flow.
• Journal bearings have been significantly improved for high boost durability and added reliability.
• Housings are processed on CNC machining centers to accommodate the larger wheel sizes, and improve flow.
Fitment on ProXP, standard XPT and Turbo-S with required water lines. Rebuilds not available for the standard XPT/XPT-S turbo models (#1205689). Requires tuning for optimal performance. BC does not offer tuning solutions but contact us for a referral. With these big power levels, and the fact that stock cranks and case oiling become suspect above 220whp, we highly recommend a billet crank, rods, pistons, King main bearings and ARP main studs for the ultimate bulletproof package.
Note: Requires the following OEM Polaris part numbers for operation: 
| | |
| --- | --- |
| Cooling Line Out | #2522043 |
| Cooling Line In | #2522044 |
| Line Fittings (x2) | #7521029 |
| Heat Shield (optional) | #5266245 |