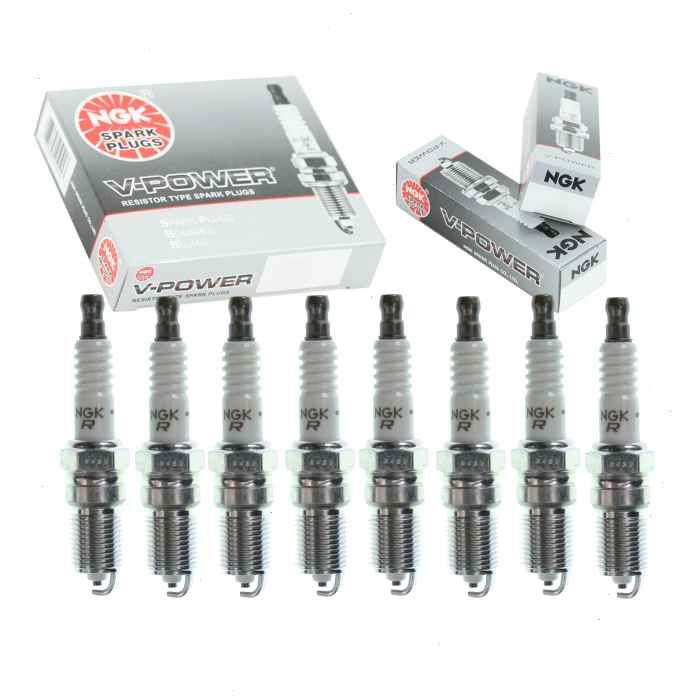 8 PACK NGK 4177 TR6 V-Power Spark Plug
NGK V-Power plugs feature a unique v-cut in the center electrode that directs the spark to the edge of the electrode, helping the spark develop more rapidly, increasing ignitability and reducing quenching.

Trivalent metal plating provides superior anti-corrosion and anti-seizing properties
Corrugated ribs prevent flashover
Pure alumina silicate ceramic insulator, provides superior strength and better heat transfer
Copper core aids in heat removal
Triple seals prevent leakage

Shell

Thread Diameter

14mm

Thread Pitch

1.25mm

Seat Type

Tapered

Reach

18mm (.709")

Hex Size

5/8" (16mm)

Terminal Type

Solid

Overall Height

ISO

Gap

.039" (1.0mm)

Center Electrode

Material

Nickel

Type

V-Cut

Size

2.5mm

Projection

Projected

Ground Electrode

Material

Nickel

Type

Standard

Quantity

1

Specifications

Resistor

Yes

Resistor Value

5k Ohm

Heat Range

6

Torque Specs

Cast Iron: 10.8-18 lb. ft. Aluminum: 7.2-14.5 lb. ft.

Part Information

Brand

NGK/NTK

Warranty

60 Days

Longevity

30k Miles

 

8 pc NGK 4177 Spark Plug (TR6)




CHOOSE CONSISTENT COMBUSTION:The NGK V-Power Spark Plug is ideal for older vehicles equipped with nickel-tipped spark plugs. Featuring a v-grooved nickel alloy center electrode which places the spark closer to the air/fuel mixture for faster ignition, the economical NGK V-Power Spark Plug enhances ignitability over standard nickel-type plugs and lowers ignition system voltage requirements. NGK V-Power Spark plugs are built to last up to 30,000 miles
ENSURE RELIABILITY:These spark plugs feature cold-rolled threads to prevent damage to the cylinder head and trivalent metal plating for superior anti-corrosion and anti-seizing properties. Featuring improved performance over OEM and standard plugs, the solid copper core of the V-Power Spark Plug provides superior heat dissipation, conductivity, and a broader heat range for increased fuel economy and lower emissions. Trust in NGK, the number 1 spark plug supplier for economical performance
RELY ON QUALITY IGNITION COMPONENTS: From their start in 1936 through today, the NGK product line is proof of their dedication to innovation, performance, and quality. In order to deliver high-quality spark plugs and oxygen sensors to the automotive community, NGK has partnered with auto manufacturers to engineer automotive parts that fit both the vehicles of today and of the future
TRUST IN NGK NTK: Explore components built by the world leader in the design of spark plugs and oxygen sensors. Their attention to performance excellence is what has differentiated them from the competition and allowed them to be the number one supplier of spark plugs and oxygen sensors





Please note, these spark plugs are pre-gapped for general use, however, you will need to adjust this gap to fit the needs of your specific application.