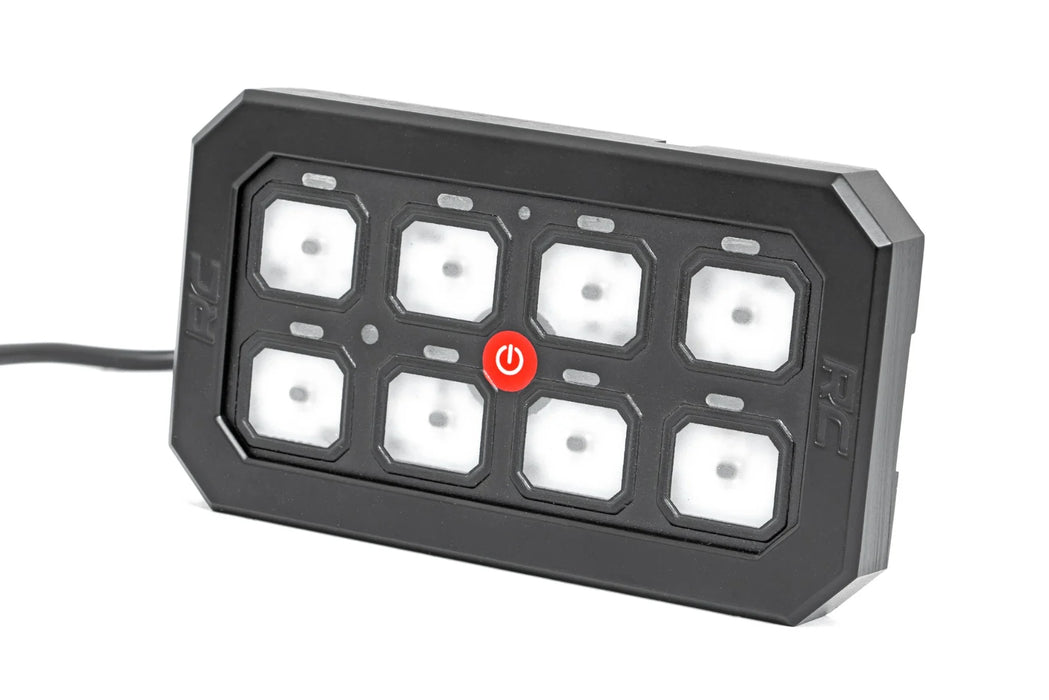 Rough Country MULTIPLE LIGHT CONTROLLER SKU 70970
nnovative Controller. Take command of your electronic devices with Rough Country's Universal 8-Bank Multiple Light Controller! This easy and reliable electrical upgrade allows you to control eight auxiliary LED lights or electrical devices with the push of a button. 

Versatile Solution. Rough Country's 8-Bank Multiple Light Controller is a professional quality power distribution system and switchboard designed for use in any vehicle; allowing you to add professional control for your electronic devices in an easy-to-install system. Each kit offers 50 different switch labels that can be applied to the unit to designate the unit that is to be powered. 
Installation. With no cutting or drilling required to install, installation couldn't be easier. With an estimated timeframe of 3-4 hours this full kit can be installed at home using standard tools and can be completed efficiently and quickly!
One-Year Replacement Warranty. Rough Country's Universal 8-Bank Multiple Light Controller is backed with a one-year replacement warranty towards manufacturer defects. As such, the product is protected from structural and workmanship damage after the date of purchase. With our industry-leading warranty give yourself peace of mind when using Rough Country's Suspension products! 
FEATURES
Panel Dimensions: Length: 4.5" Width: 0.5" Height: 2.5"
Relay Box Dimensions: Length: 7.5" Width: 1.34" Height: 4.125"
Universal mounting brackets.
Controls up to 8 LED lights or other electrical devices.
6 spare fuses.
Blue LED backlight.
Dimmable backlighting capabilities.
On/off power button.
Red LED indicator lights.
50 Switch Labels.
Easy Installation.
IP65 Waterproof Rating.
Integrated LVCO (Low-Voltage Cut-Off).
Includes wiring harness and hardware.
Can NOT exceed a total of 60 working amps.
PARTS
Circuit Breaker
Circuit Board
Circuit Board Mount
Wiring Harness
50 Stickers
Hardware
Est. Install Time: 3-4 hours