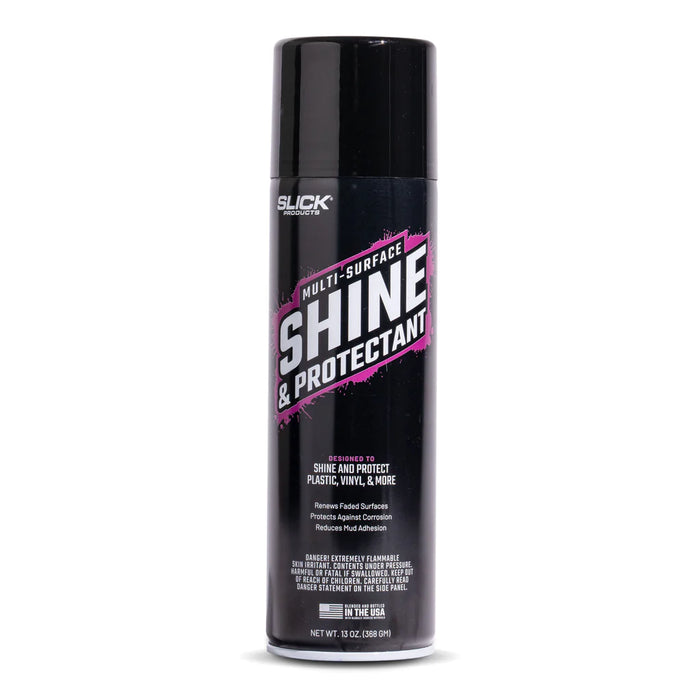 MULTI-SURFACE SHINE & PROTECTANT SP4001
Slick Products Multi-Surface Shine & Protectant provides a rich luster and like-new appearance to surfaces while also reducing the adhesion of mud and debris. This silicone based solution is designed for interior and exterior use on plastic, vinyl, fiberglass, and more. The ready-to-use solution should be applied directly to surfaces and buffed to desired luster. Not for use on foot pedals, steering wheels, or infotainment centers. Contains a fresh tropical scent.
• Cleans and Shines
• Renews Faded Parts
• Great On Plastic, Rubber & Vinyl
• Reduces Mud Adhesion
• Fresh Tropical Scent
Clean and dry surface prior to use. Apply a light, even coat and allow the solution to disperse and absorb for 1-2 minutes. Wipe or buff into surface with a clean microfiber towel until desried luster is acheived.
Note: Always test compatibility on a small, inconspicuous area. Cool down hot surfaces prior to use. Do not apply to clear plastic, suede, tire treads, brakes, foot pedals, steering wheels, infotainment centers, or surfaces that should not become slippery.
CAUTION: EXTREMELY FLAMMABLE. SKIN IRRITANT. HARMFUL OR FATAL IF SWALLOWED. CONTENTS UNDER PRESSURE. Intentional misuse by concentrating and inhaling the product can be harmful or fatal. May cause an allergic skin reaction. Suspected of damaging fertility or the unborn child. May cause drowsiness or dizziness. May cause damage to organs through prolonged or repeated exposure. Keep away from heat, hot surfaces, sparks, open flames and other ignition sources. Pressurized container: Do not pierce or burn, even after use. Do not breathe fumes, mists, vapors or sprays. Wash thoroughly after handling. Wear protective gloves, protective clothing, eye protection, and face protection. Use only outdoors or in a well-ventilated area. Avoid exposure to direct sunlight or heat for extended periods. Prolonged exposure to heat or sunlight may produce a temporary white film. Do not expose to temperatures exceeding 120°F (49°C). Store locked up. Store in a well-ventilated place. Do not apply to clear plastic, suede, or vinyl tops. Do not use on surfaces that should not become slippery. Do not apply to, or allow product to contact the tread area of tires. Do not use on brakes or near surfaces prepped for painting. Contains Hexane, Propane, Butane, Petroleum Distillates, and Limonene. KEEP OUT OF REACH OF CHILDREN.
FIRST AID:
INHALED: Remove person to fresh air and keep comfortable for breathing. Call a POISON CENTER/doctor if you feel unwell. SKIN: Wash with plenty of water. If skin irritation or rash occurs: Get medical attention. Wash contaminated clothing before reuse. EYES: Rinse cautiously with water for several minutes. Remove contact lenses, if present and easy to do. Continue rinsing. If eye irritation persists: Get medical advice/attention. INGESTED: Immediately call a POISON CENTER/doctor. Do NOT induce vomiting. 
For more information regarding ingredients and the safe use of this product, please visit