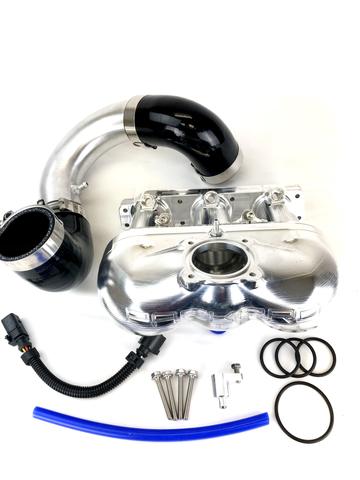 PACKARD INTAKE PLENUM (BILLET) FOR CAN-AM X3 2017- 2023
This is a fully o-ring sealed hurricane dispenser AKA intake plenum assembly. Instant bolt-on HP gainer. The throttle body bolts directly to the top of the plenum, placing it in a more logical and safe location, away from exploding belts and clutches. The OEM plenum is plastic making it vulnerable to cracking under high boost levels. The OEM plenum also contributes to extremely uneven charge pressure in the intake track amongst the 3 cylinders creating less power and more chance of blowing head gaskets on cylinders that receive the extra charge.
The design of this intake plenum makes a drastic difference in fixing the problems with the OEM intake plenum. You will have more reliability, power, LESS LAG and the looks that go along with billet art!
Includes:
Complete billet intake plenum
Throttle body extension harness
Necessary charge tube adaptors and t-bolt clamps
Aluminum charge tube
Optional one-inch BOV port
Big Bore Throttle Body Includes:
13 mm + over the stock throttle body
Complete billet intake plenum
Throttle body extension harness
Necessary charge tube adaptors and t-bolt clamps
Aluminum charge tube
Optional one-inch BOV port
Must use Aftermarket stand alone ECU