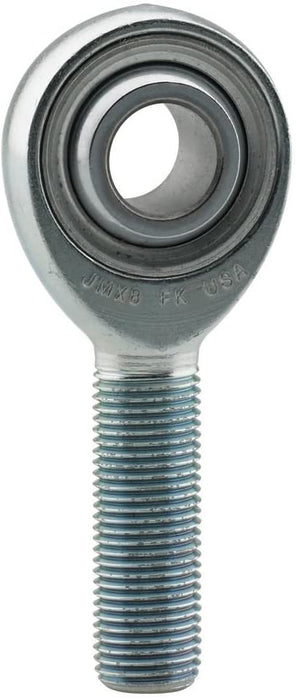 FK Bearings (JMXL10T) 5/8 x 5/8-18 Left Hand Male Rod End with Teflon Liner
Brand:
Manufacturer's Part Number:
JMXL10T
Part Type:
Product Line:
FKB-JMXL10T
UPC:
800199401011
Rod End Thread Size:
5/8 in.-18 LH
Rod End Attachment:
Male threads
Rod End Construction:
3-piece
Rod End Style:
PTFE lined
Jam Nut Included:
No
Thread Length:
1.625 in.
Rod End Head Bore Size:
0.625 in.
Rod End Head Diameter:
1.500 in.
Rod End Head Width:
0.562 in.
Grease Fitting:
No
Rod End Centerline Length:
2.625 in.
Heat-Treated:
Yes
Rod End Ball Width:
0.750 in.
Rod End Misalign Angle:
16 degrees
Rod End Static Load Capacity:
17,959 lbs.
Rod End Material:
Steel
Rod End Finish:
Zinc plated
Quantity:
Sold individually.
FK JMX/JMXL Series Rod Ends
FK JMX/JMXL Series 3-piece rod ends are precision-built for high strength. The bodies and races are heat-treated steel alloy that is zinc plated and chromate treated for corrosion resistance. The ball is hard chrome plated 52100 steel offering excellent wear and durability. These rod ends are available in several choices with right (JMX) or left (JMXL) hand threads. You can also choose JMX/JMXL in metric dimensions with PTFE liners for high load capacities. FK Bearings provide the expertise and quality ends to meet your needs. Order the 3-piece JMX/JMXL Series rod ends designed to fit your application.