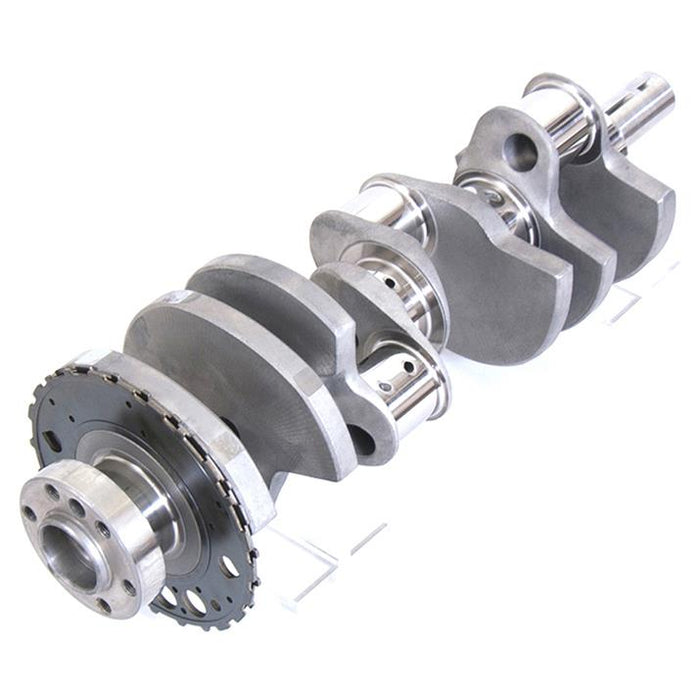 Eagle Forged 4340 Steel Crankshafts 434640006100 Crankshaft, 1-Piece Seal, Internal Balance, Forged 4340 Steel, 4.000 in. Stroke, Chevy, 5.7, 6.0L, Each
Crankshaft, 1-Piece Seal, Internal Balance, Forged 4340 Steel, 4.000 in. Stroke, Chevy, 5.7, 6.0L, Each
Brand:
Manufacturer's Part Number:
434640006100
Part Type:
Product Line:
Engine Stroke (in.):
4.000 in.
Crankshaft Material:
Forged 4340 steel
Engine Balance:
Internal
Rear Main Seal Style:
1-piece
Reluctor Wheel Tooth Quantity:
24
Lightened:
No
Requires Narrow Bearings:
Yes
Rod Bearings Included:
No
Main Bearings Included:
No
Rod Journal Diameter (in.):
2.100
Main Journal Diameter (in.):
2.559 in.
Balancer Bolt Thread Size:
M16 x 2.0
Crankshaft Snout Style:
Standard
Quantity:
Sold individually.
Eagle Forged 4340 Steel Crankshafts
Eagle forged 4340 steel crankshafts are great for high performance applications. They feature non-twist forging, undergo a multi-stage heat-treatment process, and are stress-relieved and shot-peened. These cranks are X-rayed, magnafluxed, and sonic-tested, so you know you're getting a top-quality piece. Each crankshaft has chamfered oil holes for improved oiling, a .125 in. radius on rod and main journals for increased strength, and the journals are precision-ground and micro-polished to less than 5 R.A. A target bob weight of +/- 2 percent greatly reduces balancing time. Many options are available; order the model recommended for your year/make and engine application.