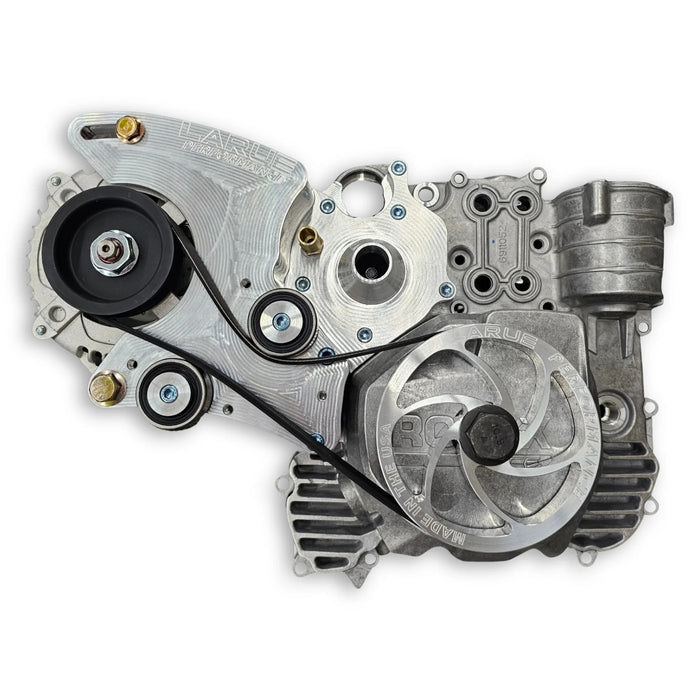 CAN-AM X3 195-AMP ALTERNATOR KIT
When you are consuming more power than your stator can make you need to add another source for power. The stock ECU will pull power out of your Can-Am if you do not have enough voltage, therefore by adding the alternator kit, your Can-Am will gain power. The stock accessory relay will drop out at 12.5 volts
This 195 amp alternator is a marine-style alternator so you don't have to worry about getting it soaked in water. We have seen it put out 150 amps at idle. Made in the USA.
Warranty
: This alternator 
comes with
 a one-year warranty. If needed you would contact 
LaRue Performance
 directly. 
Bolt-on kit no modifications are needed
All parts and hardware needed for installation are included
No modifications to the frame
Puts out 150 amps at idle
Rated at 195 amps
Bolts straight to the crank
Very reliable connection
Will power all the accessories you need and want
A secondary battery is only needed when the car is off & you want to play your stereo or keep your lights on.
If you run a dual battery you're going to need an alternator kit to charge it back up because the stock stator doesn't have enough power to recharge it.
We do not recommend submarining in mud 
CAD designed & CNC machined in-house
Made in the USA
Can-Am X3 90-amp Alternator Kit Installation Instructions (will be updated shortly)

INSTALL VIDEO

 (will be updated shortly)
KIT OPTION DETAILS



1. Send your ignition cover in for modification $1675
With this discounted option you will send in your stock ignition cover, keep your water pump installed, and only remove the stator from your ignition cover. We will modify your cover to work with our alternator kit and send the entire kit back to you. The modification turnaround will take 24-48 hours. Please send your ignition cover to the address below.
LaRue Performance
7831 E Greenway Rd
Scottsdale, AZ 85260
2. Full kit with the option of reimbursement $1975 (with reimbursement $1775/$1705 total)
With this option, we will send you the full bolt-on alternator kit. If you decide to send us back your stock ignition cover we will reimburse you $270 (clean cover) or $200 (dirty cover) once we receive your ignition cover.