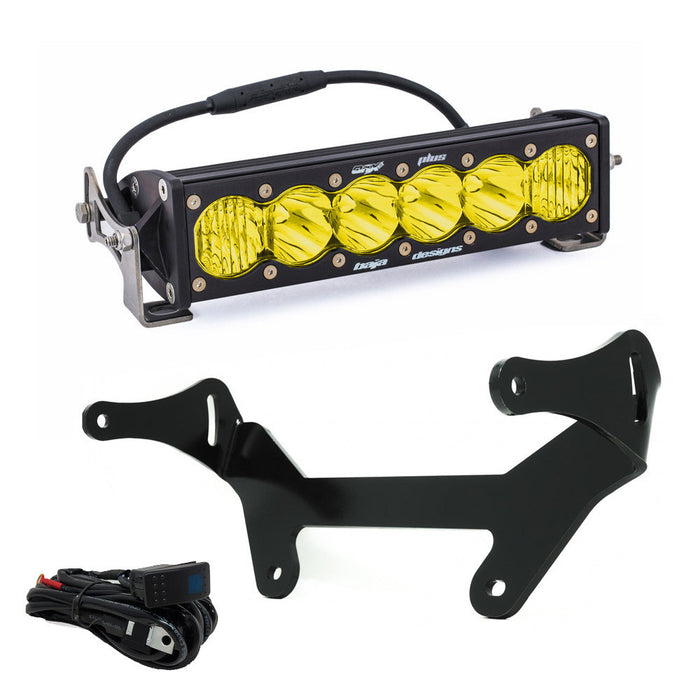 Can-Am OnX6+ LED 10 Inch Shock Mount Light Bar Kit - Can-Am 2017-24 Maverick X3 447120
Description
10 inch amber Driving/Combo
Separate yourself from the pack with the Baja Designs Can-Am OnX6 Shock Mount. This kit includes a 10 inch OnX6 light bar and mount that easily bolts up to the factory shock tower and keeps the light stable at high speeds. This kit is ideal for someone looking to gain forward projecting light while maintaining the X3's aggressive styling.
Satisfaction Guarantee – 30-Day Money Back Guarantee
Limited Lifetime Warranty – Complete Purchase Protection
uService – Replaceable Lenses And Optics
ClearView – All The Light, Right Where You Need It
MoistureBlock – Waterproof, Rain Proof, Submersible
CopperDrive – Only LED Driven At 100 Percent
5000K Daylight – Less Driver Fatigue, Natural Color
Vehicles equipped with aftermarket shocks or hardware may require modifications to the hardware list, and or bracketry in our kit.
Can-Am Maverick X3 900 HO 2018-2024
Can-Am Maverick X3 DS Turbo 2021-2024
Can-Am Maverick X3 DS Turbo R 2020-2024
Can-Am Maverick X3 Max DS Turbo 2021-2024
Can-Am Maverick X3 Max DS Turbo R 2020-2024
Can-Am Maverick X3 Max RS Turbo R 2020-2024
Can-Am Maverick X3 Max Turbo 2018-2024
Can-Am Maverick X3 Max Turbo R 2017-2024
Can-Am Maverick X3 Max X ds Turbo R 2017-2024
Can-Am Maverick X3 Max X ds Turbo RR 2020-2024
Can-Am Maverick X3 Max X mr Turbo RR 2020-2024
Can-Am Maverick X3 Max X rs Turbo R 2017-2024
Can-Am Maverick X3 Max X rs Turbo RR 2020-2022
Can-Am Maverick X3 Max X rs Turbo RR Smart-Shox 2021-2022
Can-Am Maverick X3 RS Turbo R 2020-2021
Can-Am Maverick X3 Turbo 2018-2021
Can-Am Maverick X3 Turbo R 2017-2019
Can-Am Maverick X3 X ds Turbo R 2017-2019
Can-Am Maverick X3 X ds Turbo RR 2020-2022
Can-Am Maverick X3 X mr Turbo 2018-2021
Can-Am Maverick X3 X mr Turbo R 2018-2019
Can-Am Maverick X3 X mr Turbo RR 2020-2021
Can-Am Maverick X3 X rc Turbo 2018-2021
Can-Am Maverick X3 X rc Turbo R 2018-2019
Can-Am Maverick X3 X rc Turbo RR 2020-2021
Can-Am Maverick X3 X rs Turbo R 2017-2019
Can-Am Maverick X3 X rs Turbo RR 2020-2022
Can-Am Maverick X3 X rs Turbo RR Smart-Shox 2021-2022