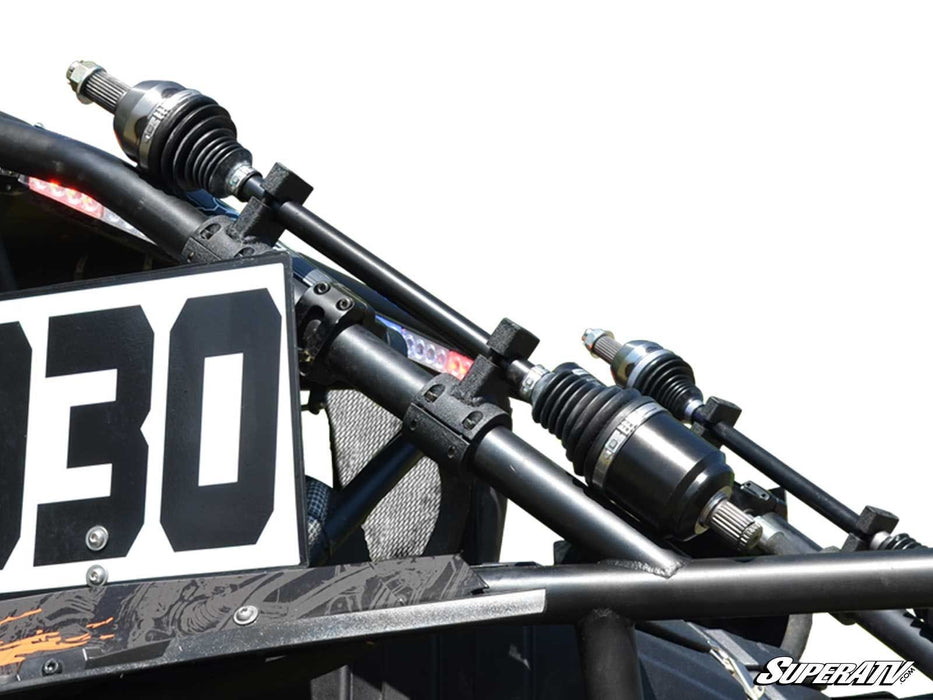 Axle Mount For 1.75" Cages (AM00-001-K-00)
DETAILS
Designed by SuperATV Race Team, these axle mounts are ready for anything you can throw at them. These have been race tested and designed not to slip on the cage or let the axle slip in the mounts. Designed especially for Rhino brand axles, however the simple and sleek design will allow you to mount many stock and aftermarket axles. Each kit comes with 2 mounts, enough to secure one axle.
"Axle mounts are a necessity if you are a rider that likes to ride prepared. I came up with the concept in preparation for the King of Hammers race that is dubbed the toughest 1 day event on the planet. During the race my Rhino Brand Axles performed flawlessly and didn't need the spare axles I was carrying but I had them if I needed them and that was a huge plus. I had no rattling or slipping throughout the entire race, and KOH certainly beats on the car. We know how helpless these machines are without an axle pulling, so go prepared on your next adventure and invest in SuperATV's axle mounts."
-Tyler Greves, Driver, Team SuperATV
⚠ 
California Proposition 65 Warning
 ⚠
WARNING:
 This product may contain a chemical known to the State of California to cause cancer or birth defects or other reproductive harm.
FITMENT
Polaris Ace : 2014+
Polaris Ace 570 : 2015+
Polaris Ranger 400 Mid Size : 2010-2014
Polaris Ranger 570 Mid Size : 2014
Polaris Ranger 570 Mid Size Crew : 2014
Polaris Ranger 6x6
Polaris Ranger 700 : 2005-2009
Polaris Ranger 800 Mid Size : 2013-2014
Polaris Ranger 800XP : 2010-2014
Polaris RZR XP Turbo : 2016+
Polaris RZR XP 4 Turbo : 2016+
Polaris RZR XP 1000 : 2014+
Polaris RZR XP 4 1000 : 2014+
Polaris RZR S 1000 : 2016+
Polaris RZR S4 1000 : 2019+
Polaris RZR 900 : 2015+
Polaris RZR 900 S : 2015+
Polaris RZR 900 XC : 2015+
Polaris RZR 4 900 : 2015-2018
Polaris RZR S4 900 : 2018
Polaris RZR XP 900 : 2011-2014
Polaris RZR XP 4 900 : 2012-2014
Polaris RZR 800 : 2008-2014
Polaris RZR 4 800 : 2010-2014
Polaris RZR 570 : 2012+
Arctic Cat Prowler : 2013+
Arctic Cat Trail : 2014+
Arctic Cat Trail Sport : 2014+
Arctic Cat Wildcat : 2012+
Arctic Cat Wildcat 4 : 2013+
CFMOTO Z-Force 800 : 2014+
Yamaha Rhino : 2004-2011
Yamaha YXZ : 2016+
Kawasaki Teryx KRX 1000 : 2020+
Honda Talon 1000R : 2019+
Honda Talon 1000X : 2019+
Honda Talon 1000X-4 : 2020+
Read More
FEATURES
No slip mounts
Fits multiple shaft sizes
Designed to work with 1.75" cages