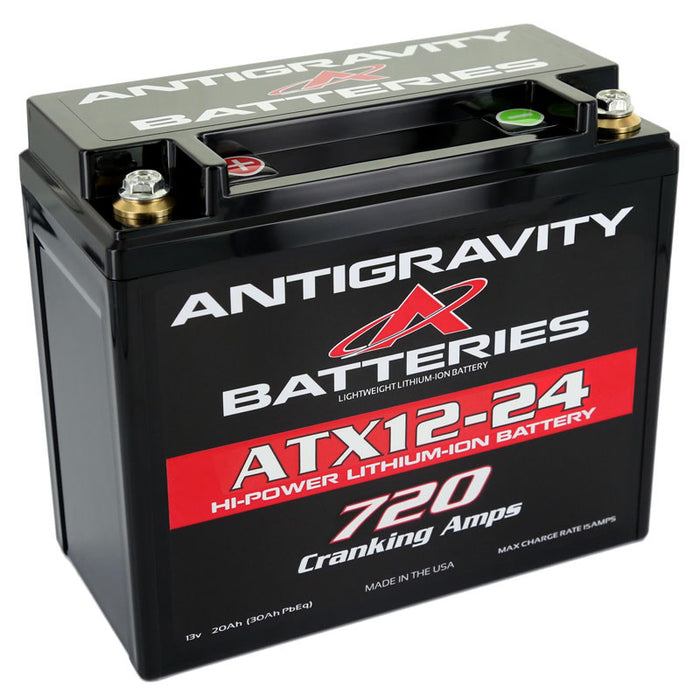 Antigravity Batteries® AG-ATX12-24 - OEM Style Lithium Battery
Universal OEM Style Lithium Battery (AG-ATX12-24) by Antigravity Batteries®. This top-grade product is expertly made in compliance with stringent industry standards to offer a fusion of a well-balanced design and high level of craftsmanship. Manufactured from industry-leading materials using up-to-date equipment, it ensures everlasting reliability and enduring value. This product is distinguished by total quality assurance, unsurpassed by anybody else.
Notes:
Due to Manufacturer Restrictions this product cannot be sold internationally and/or shipped by air.
Specifications:
Type: YTX12
CCA: 720
Weight: 5
Terminal Polarity: Left Side Negative
Length: 5.87"
Width: 3.43"
Height: 5.12"
Features:
Adhesive-Backed Foam Included for EASY INSTALLATION
Most Compact of Lithium Motorsports Batteries available
Ultra-Lightweight and High-Power Lithium-Ion Motorsport Battery
Can hold a charge up to a year provided there are no "Parasitic Drains" (accessories that draw power when bike is off (i.e. alarms, ECUs, iPods, GPS, heated grips, etc)
Large all-brass terminal design
Located in Los Angeles, California, Antigravity Batteries® is a company dedicated to building the best in Lithium-Ion Products for the Motorsports Community. Antigravity Batteries offer the highest quality, most innovative and diverse line of Lithium-Ion Battery Products to meet the demands of all Motorsports and Powersports enthusiasts and beyond. From Antigravity Batteries multi-award-winning MICRO-START jump-starters to Antigravity Batteries wide range of lightweight high-power Lithium-Ion batteries for Motorcycles, Powersports Vehicles, Race Cars and more… Antigravity Batteries are the lithium-ion battery specialists.