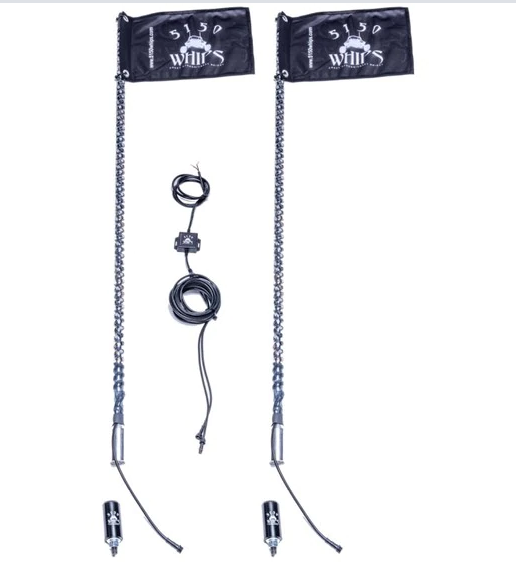 2X 187" 5150 Whips Bluetooth LED Whip (Pair) lifetime warranty
The 187 Whips are 5150's flagship whip and the most advanced in the industry. These whips are also Bluetooth controlled and CAN chase, cascade, rainbow, and dance to music. On top of that they are fully user programmable via the free app and users are able to design and save their own modes. Due to the technology involved with the 187 Whips, there is a separate 3x3 waterproof control module that will need to be mounted separately from the whips. This module has a harness that splits off to each whip and keeps them perfectly in sync with each other.

These whips have been completely redesigned from the base up. From the new super bright LEDs to our new patent-pending magnetic quick release base these whips are sure to make you stand out from the crowd. And as always, these whips are backed by our lifetime warranty. Why are they named 187? Because they kill the competition.
op of the line LED whips. These 187 Whips can stream, cascade, chase, etc.  They are Bluetooth controlled via the Bledim app and are user-programmable.  They can also move to music/sound via the app. 
*Comes with 1 controller and "Y" harness. Due to different wiring options, our power harness is not included with this set.  Power harness can be purchased in our webstore. On & Off switch NOT Included*
Only 1 controller required for use of two whips.