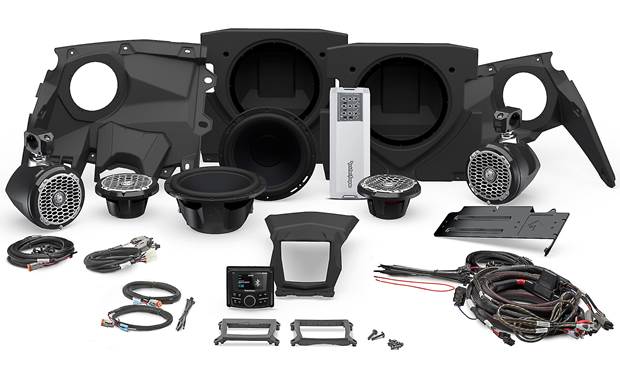 1000 watt stereo, front speaker, subwoofer, & rear speaker kit for 2017+ Maverick X3 (X317-STAGE5)
If you want to take things to the next level then the X3 Stage 5 kit is for you. Featuring all the same hardware as the Stage 4 kit, we've upgraded the speakers and minicans to our Punch PM series for even more output. We're including our Power small chassis 5-channel amplifier ramping the power total up to a whopping 1,000 watts and the subwoofer option is upgraded with an additional under seat enclosure that allows for all factory seating adjustments and positions with a 10 inch Prime woofer. If you're ready to be the loudest and baddest X3 on the ride then you've found exactly what you need. Compatible with factory equipped Smart-Lok module.
Estimated Installation Time: 3-1/2 HOURS
Direct connect wiring harnesses for Can-Am X3 models
Element Ready™ design protects against outdoor exposure
Speaker & sub enclosures integrate with no loss of passenger/cargo space
PMX-2: Punch Marine Compact AM/FM/WB Digital Media Receiver 2.7" Display
RFX3-PMXDK: Can-Am X3 dash kit for PMX source unit
PM2652B: Punch Marine 6.5" Full Range Speakers - Black (Pair)
RFX317-FSE: Can-Am X3 6.5" Front Speaker Panels with Smart-Lok Compatibility (Pair)
RM110D2B: Prime 10" Dual 2-Ohm Subwoofer Black
RFX317-FWE: Can-Am X3 10" Under Seat Subwoofer Enclosure
TM1000X5ad: Power Marine 1000 Watt Class-ad 5-Channel Amplifier
RFX3-K4: Can-Am X3 4 AWG 2-Seat or 4-Seat Amp Kit
PM2652W-MB: Punch Marine 6.5" Rear Speakers in Enclosure - Black (Pair)
PM-CL2B: Punch Diecast Clamp for Rear Enclosure - Black (Pair)
RFX3-RSW16: Can-Am X3 Rear Speaker Add-on Harness
*Antenna not included
MODEL
2017
2018
2019
2020
Maverick X3 Turbo
✔
✔
✔
✔
Maverick X3 Turbo R
✔
✔
✔
✔
Maverick X3 X DS Turbo
✔
✔
✔
✔
Maverick X3 X RS Turbo
✔
✔
✔
✔
Maverick X3 MAX Turbo
✔
✔
✔
✔
Maverick X3 MAX Turbo R
✔
✔
✔
✔
Maverick X3 MAX DS Turbo R
✔
✔
✔
✔
Maverick X3 MAX RS Turbo R
✔
✔
✔
✔
Maverick X3 MAX RC Turbo RR

 

1

—
—
—
—
1 Front Speakers not compatible with Intrusion Bar introduced in 2020.